Google Home Service Ads are Expanding: Welcome to Local Paid Inclusion
Imagine a search engine results page with four paid ads at the top and three more sponsored Local Listings in the Local Pack. That's seven ads at the top of every page, and that's where we're headed with Google Home Service Ads.
Google Home Service Ads are Expanding
Google Home Service Ads are sponsored listings in the Google Local Pack. Here's what they look like: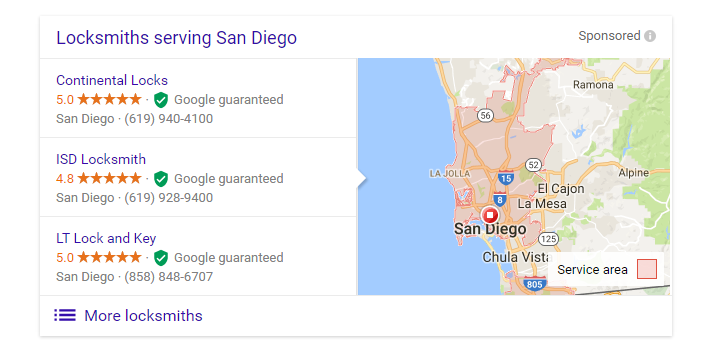 Google Home Service Ads beta-launched on July 30, 2015. The invite-only program enabled plumbers and locksmiths in California's Bay Area to become Google Guaranteed Service Providers and appear atop the newly "Sponsored" Local Pack.
Since then, the pilot program has expanded to San Diego and is now open to handymen, electricians and house cleaners, as well. The program is slated to soon expand to Los Angeles. As of Nov. 21, Google Home Service Ads can now show up on mobile search engine results pages, complete with service area maps.
Google Home Service Ads are here — brands and businesses need to be paying attention. Google Home Service Ads are sponsored listings in the Google Local Pack. Although Google Home Services Ads are still in beta, and you'll only find them if you're searching for locksmiths and plumbers in the Bay Area and San Diego.
If you're not a locksmith, plumber, house cleaner, handyman or electrician in the Bay Area or San Diego, do you need to be paying attention? Absolutely. Paid inclusion is a reality and it's only a matter of time before it rolls out to all local businesses. Google is in the business of making money. Therefore, it's in Google's best interest to monetize local listings across industries, nationwide.
If paying a "lead fee" to be ranked at the top of local listings, even with an ad designation, is not paid inclusion, then what is? You pay — and you jump above the others. Do not be fooled. This is a revenue opportunity for Google and it is expect to spread quickly. As with PPC ads, you'll get more more keyword data using Google's Home Service ads.

The way things are headed, business owners will have no choice but to buy Home Service Ads. Listen to this story:  SEO Jim Froling shared an eye-opening story in a thread on Local Search Forum about Home Service Ads. One of Froling's clients, a locksmith in Oceanside, California, was contacted by Google. The Google representative told the client that "his Google My Business listing was going away and that he would have no local visibility unless he signed on with Home Service Ads."
Paid inclusion (aka Home Service Ads) will become the only chance local business have to appear in Local Packs.
How soon before paid inclusion is a reality across all industries? Perhaps sooner than you'd think.  Remember when AMP (Accelerated Mobile Pages) was just for the publishing industry? AMP launched for news publishers on Oct. 7, 2015. Less than a year later, it was available to all sites in all industries.
Local Listings Have Never Been Organic
There's been a common misconception that Local Listings were an organic space, and therefore would always be free from ads. But Local Listings are not an organic space, nor have they ever been. Local Listings have always been an opt-in opportunity, based on information provided by businesses. Unlike organic search results, Google Local Listings were never based on public trust information or information gathered from the web – you don't even have to have a website to have a Local Listing. It's a Google-owned directory. 
Paid inclusion has been in the cards for years. The expansion of Google Home Service ads comes as no surprise to me. I've been doing SEO since 1996, and I share my annual digital marketing predictions every year. Back in 2012, I wrote:
"Local results become a massive revenue source for the search engines. A local paid inclusion program develops where brick and mortar sites can get local result preferential listings for a reasonable monthly fee. Some engines will offer comprehensive call tracking and analytics for local paid inclusion programs.
Local Paid Inclusion will replace traditional SEO and PPC as the first traffic tactic. Premium listings in local results will immediately gain popularity as early adopters happily get traffic for a low fee in a matter of days. This will be the most significant traffic tactic in 2012. Everyone that has a local address will participate." 
Be paying attention, folks – as Google Home Service Ads roll out across all local industries, you're going to need to strengthen your local SEO strategy in Google's increasingly pay-to-play ecosystem.
About the Author
Bruce Clay is founder and president of Bruce Clay, Inc., a global Internet marketing optimization firm providing search engine optimization, pay per click, social media marketing, conversion rate optimization, SEO-friendly Web design and architecture, and SEO tools and education. Connect with Bruce on Google+.
Powered by WPeMatico